Are you looking to convert to QuickBooks Online but you're not sure if it's right for your business?
Many of my clients ask me this question. They're not sure if they should convert to QuickBooks Online. They're not sure if QuickBooks Online is good or safe. The answer is – it depends.
Let's review if QuickBooks Online might be a good fit for you:
You want to work on the go
You run a service-based business
You have a business with light inventory needs
You are comfortable working online
Your business has one or more locations
You are looking for zero maintenance – no software to install, no backups to maintain, no IT infrastructure
You want to access QuickBooks Online with your IPhone, IPad, Android, or other mobile device like a tablet
What are the benefits of QuickBooks Online?
Anytime, anywhere access as long as you have an internet connection
Automatic updates and upgrades
Data is backed up automatically
Access your data from a tablet or smartphone
Free technical support
Bank and credit card transactions automatically downloaded for 16,000+ financial institutions (for free)
Free access for up to two accountants or bookkeepers to access your data
Integration with other software applications is available
Built-in business reports to help you track your business finances
Online and mobile payments can be accepted, using QuickBooks Payments
Is QuickBooks Online safe?
QuickBooks Online has the same security and encryption as banks. According to the fine print on the QuickBooks Online website, it has 128-bit Secure Sockets Layer (SSL) – the same encryption technology used by some of the world's top banking institutions to secure data that is sent over the Internet.
When is QuickBooks Online not right for your business?
QuickBooks Online is an excellent product, but it's not right for every business. In some cases, you may need to integrate another software application to do what QuickBooks Online cannot. In other cases, you may need to use a desktop version of QuickBooks. QuickBooks Online may not be right for if you fall into one of the categories below:
Businesses such as:

Manufacturing
Companies with very robust inventory needs
Companies that need detailed job costing

Companies that need to set up detailed user permissions
Companies that need custom reporting capabilities
Companies that need integration with QuickBooks Point of Sale
Companies that need to do progress invoicing or the ability to receive partial purchase orders
How do you make the right decision for your business?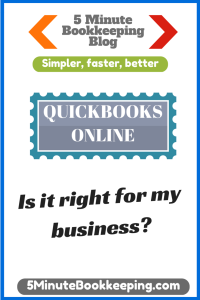 Identify what I call the "deal breakers". Make a list of requirements that you must have.
If you must be able to set up 10 users with very specific user permissions – then QuickBooks Online is not the right software for your business. If you have very robust inventory needs – QuickBooks Online by itself is not the best fit for you. But, if you integrate QuickBooks Online with SOS inventory, for example, then SOS Inventory will likely take care of all your inventory needs.
If QuickBooks Online won't do the tasks that you require and you cannot find a software application that will, then you should use one of the Desktop versions of QuickBooks. Keep in mind that QuickBooks Online is constantly being updated. Even though it may not be a good fit for your business right now, keep checking. Technology changes all the time and QuickBooks Online keeps changing too.
Try out a sample QuickBooks Online company file for free
You can test drive a QuickBooks Online company file for free. I wrote about it at Video Tutorial – QuickBooks Online Sample Company. You can watch the short video tutorial talking you through the essentials. This is a great way for you to try out QuickBooks Online before you buy it. You'll be able to play around with sample data – you don't have to worry about messing anything up. Simply click on this link and enter the security verification code as shown on the screen. Just remember that any data that you enter will not be saved after you close the browser. Be sure to use Google Chrome for the best browser experience with QuickBooks Online.
Here's a Slideshare presentation for you:
(Visited 627 times, 1 visits today)