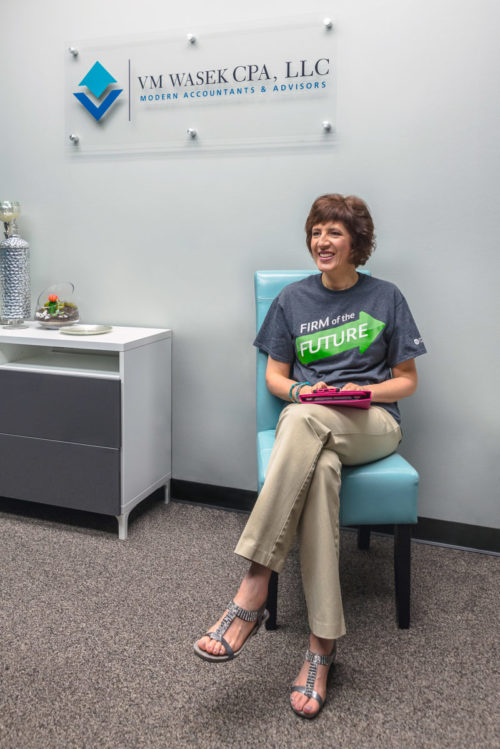 My passion to help others
Hi, I'm Veronica Wasek. I am truly passionate about helping entrepreneurs minimize bookkeeping and maximize profits. Let's face it – nobody wants to spend too much time doing bookkeeping! This blog was born out of a desire to  share simple QuickBooks Online tutorials, modern bookkeeping tips, and more. 5MinuteBookkeeping.com is now an award-winning blog focused on showing entrepreneurs how to leverage the power of QuickBooks Online, the cloud, and integrated applications to maximize profits and productivity. Bookkeeping shouldn't take hours. It shouldn't involve a shoe box full of receipts, or stacks of bank statements, or months of unrecorded transactions.  You and your staff can do your company's bookkeeping in as little as 5 minutes a day! Learn more about me and my modern accounting firm at http://www.QuickBooksOnlineExpert.com.
My business story
After spending almost 25 years working for others in the public accounting and corporate world, I was at a crossroads in my career. It was the height of the great recession and I had already been laid off from two jobs due to the economy. Feeling like I had nothing left to lose, in 2010 I started my own accounting firm, VM Wasek CPA LLC – with no money and no clients. It was daunting to think about how I would make it in the middle of a recession. I was really scared! I didn't let my fear stop me, though. Now, I am priviledged to work with amazing employees and clients and to be able to make a difference in the small business world!
About my professional life
I am a Certified Public Accountant licensed in the State of Texas in the USA. I am a Certified Advanced QuickBooks Online ProAdvisor by Intuit. I am a member of the Intuit National Trainer Writer Network. I own an award-winning modern QuickBooks accounting and consulting firm. My staff and I serve QuickBooks clients throughout the USA with customized QuickBooks bookkeeping, QuickBooks set up, QuickBooks cleanup, and advisory services. I have worked with business clients for over 25 years and I love what I do!
About my personal life
I am a highly creative individual with a desire to live outside the box! My greatest creative achievement so far is my QuickBooks accounting and consulting firm. I enjoy creative crochet, singing and playing the guitar, and fitness. I have done cross-fitness workouts, bootcamp workouts, P90X, Supreme 90 day workout, Zumba, and others. I am a native of Chile and I affectionately refer to my accent as my "Texas Chile" accent. I am married to Eric and we really enjoy eating (that's why I have to work out!)
I am also a public speaker, writer, and blogger. Contact me if you are looking for a speaker at your event or webinar.
(Visited 1,438 times, 1 visits today)