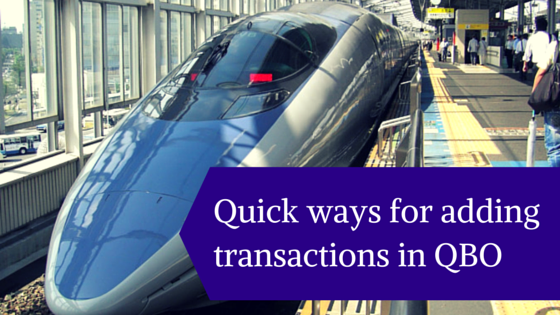 In my continuing series of QuickBooks Online training and tutorial videos on YouTube, I show you two (2) quick ways for adding transactions in QuickBooks Online. I show you the Create Menu and also Downloaded transactions.
The Create menu allows you to manually enter transactions for customers, vendors, employees, and other types of transactions. In the Create Menu you'll be able to add transactions such as customer invoices, customer payments, and credit memo's. You'll also be able to add vendor bills, pay bills, enter checks and expenses, and enter deposits.
Downloaded Transactions allows you to download bank and credit card transactions to automate your data entry. This is the easiest way to enter transactions. Keep in mind that it does not fully automate your bookkeeping since you will have to enter some manual transactions in QuickBooks Online.
Click the video to watch in detail:
Here's a time saving tip – download transactions every day – it will take you less than 5 minutes a day.
You can also find all my QuickBooks Online tutorial videos at www.QuickBooksOnlineTrainingVideos.com
Don't want to watch the video? Here's the Slideshare presentation for you:

(Visited 1,194 times, 1 visits today)