In our last blog post we discussed how to properly record transfers between bank accounts in QuickBooks Online. We met Chris, a small business owner, who was mistakenly recording duplicate entries in his bank accounts instead of properly recording bank transfers. We got him sorted out on recording transfers between his operating and savings account, but then he came back to us with another puzzle. The puzzle was that Chris saw duplicate payments recorded to this credit card, which were caused by a misunderstanding of how credit card payments were supposed to be recorded in QuickBooks Online. One payment downloaded from the bank feed, and the other was a bill payment that he entered. Ugh! More duplicates! Lucky for Chris, he can actually work with credit card payments in the same way that he works with bank transfers. Let's delve into this related topic and demonstrate how to record credit card payments in QuickBooks Online.
The #1 mistake made by untrained users
Most untrained users enter credit card payments to "Credit Card Expense" either using a vendor Bill or in the Banking transactions. This causes duplicate expenses and a mess in the credit card liability account. The best method for entering credit card payments in QuickBooks Online is to use Transfers.
The best method for entering credit card payments in QuickBooks Online is to use Transfers.
Click To Tweet
Recording payments to a credit card account as transfers
Chris paid his Am Ex credit card bill online through his credit card web portal, using his bank's checking account.
In the Banking transactions in QBO, in his checking account window, we see the downloaded transaction reflecting the payment he made to his Am Ex credit card account.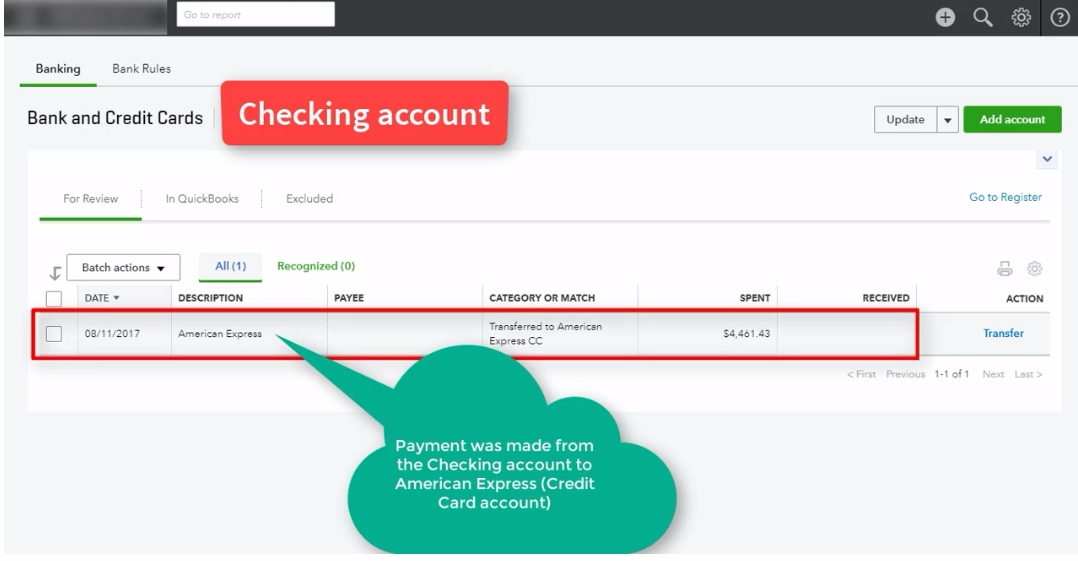 When we switch over to look at the transactions downloaded for his American Express, we can see the same payment that was made from Chris' checking account.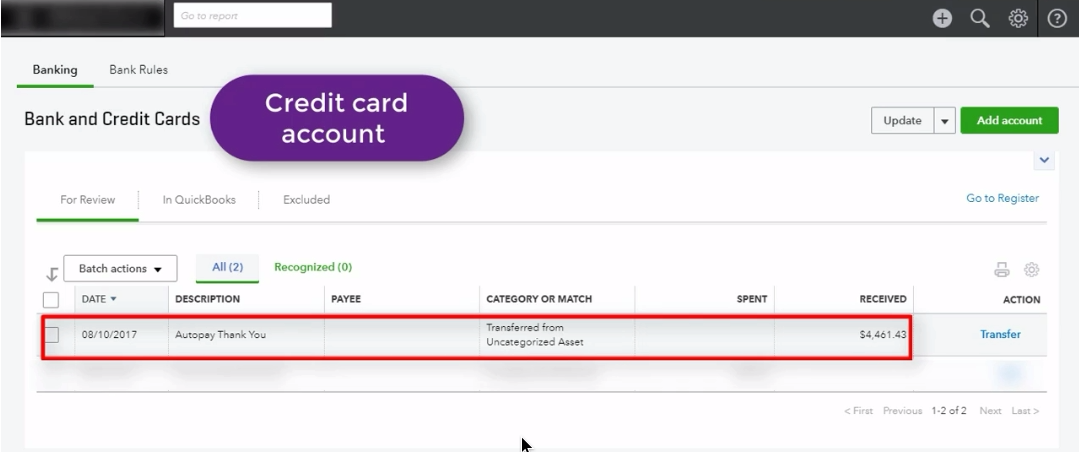 From his credit card account, Chris will select the transaction, click to view detail, and then select "Transfer, from the options of "Add", "Find a Match", or "Transfer".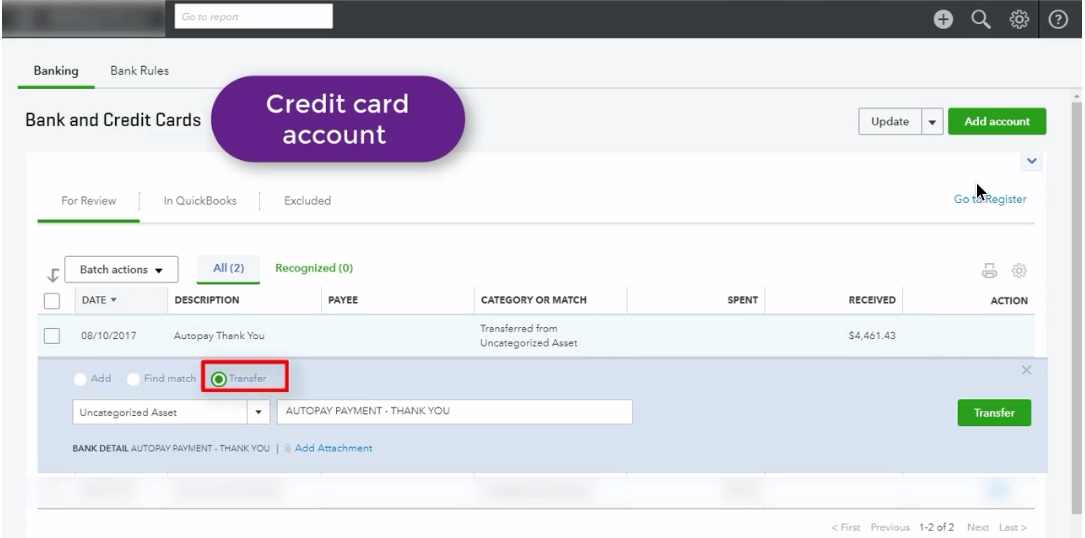 Chris will select his checking account in the drop-down box showing where the transfer came from.
Next, he'll click the green "Transfer" button on the right side.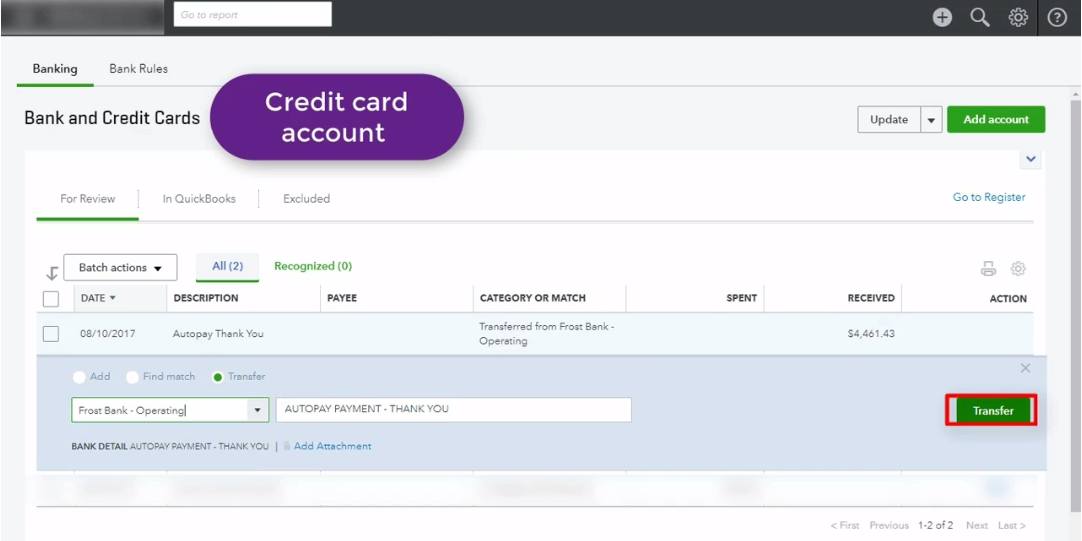 Chris will actually see that the transaction is no longer there.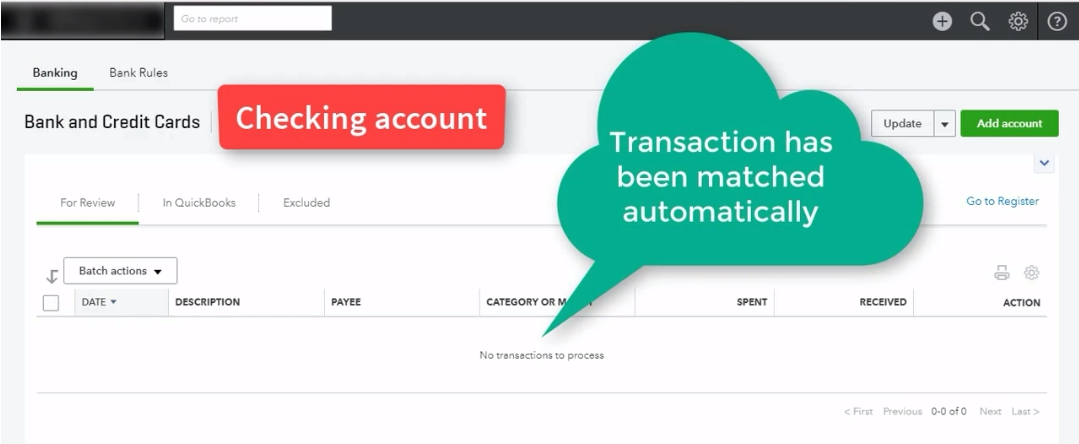 That's because QuickBooks automatically matched it up.

Avoid entering credit card statements as Bills in QuickBooks Online
Entering credit card statements as bills in QuickBooks Online can sometimes cause the issue of duplicate payments if you don't enter the Bill correctly. It's best if you stick to entering transfers from the Banking transactions – you'll save data entry time and keep things simple.
Closing
Recording credit card payments in QuickBooks Online can be confusing for the untrained user. Some errors are caused by over-complicating the payment recording process. As long as your credit card account is linked to QBO and downloading the transactions, recording the payment as a transfer between your checking account and credit card account is super quick and simple. Next time you have a credit card payment to record, you'll now know exactly how to record credit card payments in QuickBooks Online without duplicates!
(Visited 443 times, 2 visits today)