Will the bookkeeper have time for you or are they too busy?
In a prior post, I listed the 10 questions you should ask when hiring a bookkeeper or accountant.  In this post, I'll discuss the fifth question – will the bookkeeper have time for you?
Some bookkeepers don't have enough time to work on your accounting. Others are too busy during critical tax reporting periods.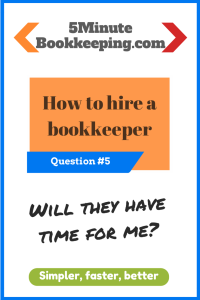 Know the different types of bookkeepers and accountants:
A CPA or bookkeeping firm with a staff of bookkeepers

A CPA or bookkeeping firm with a staff of bookkeepers generally have more than one staff person available to work on your bookkeeping. They normally will assign a dedicated bookkeeper to work on your account. If that person is too busy or out of the office, another bookkeeper can easily fill in for them.
A single bookkeeper with several clients (a solo bookkeeper / accountant / CPA)

A solo bookkeeper/accountant/CPA takes care of several clients at once. You may have to compete for their attention with all their other clients.
A bookkeeper with a full-time job who has clients on the side

An individual with a full-time job can only work on free weekdays and evenings. Your work may not be a priority since the bookkeeper is busy with their day job. You may have trouble getting a hold of them during regular business hours.
Interview Questions for a potential bookkeeper:
Do you have a staff of bookkeepers or do you work on your own?
Do you do bookkeeping full-time or part-time? Do you have a day job?
Will the completion of my bookkeeping be delayed while you are trying to meet tax deadlines throughout the year?
When can I expect to have my work completed?

Financial data is the most valuable when it's timely. The sooner you can review and analyze how your business did – the sooner you can make critical decisions. It is not uncommon for some busy accounting firms to take months to complete their clients' bookkeeping.  Ideally, monthly bookkeeping should be completed no later than the following month. For example, October's bookkeeping should be completed and reconciled no later than November.
Be sure to ask a prospective bookkeeper when you can expect to have your books completed each month. The sooner the better.
Here's an infographic for you to save and download: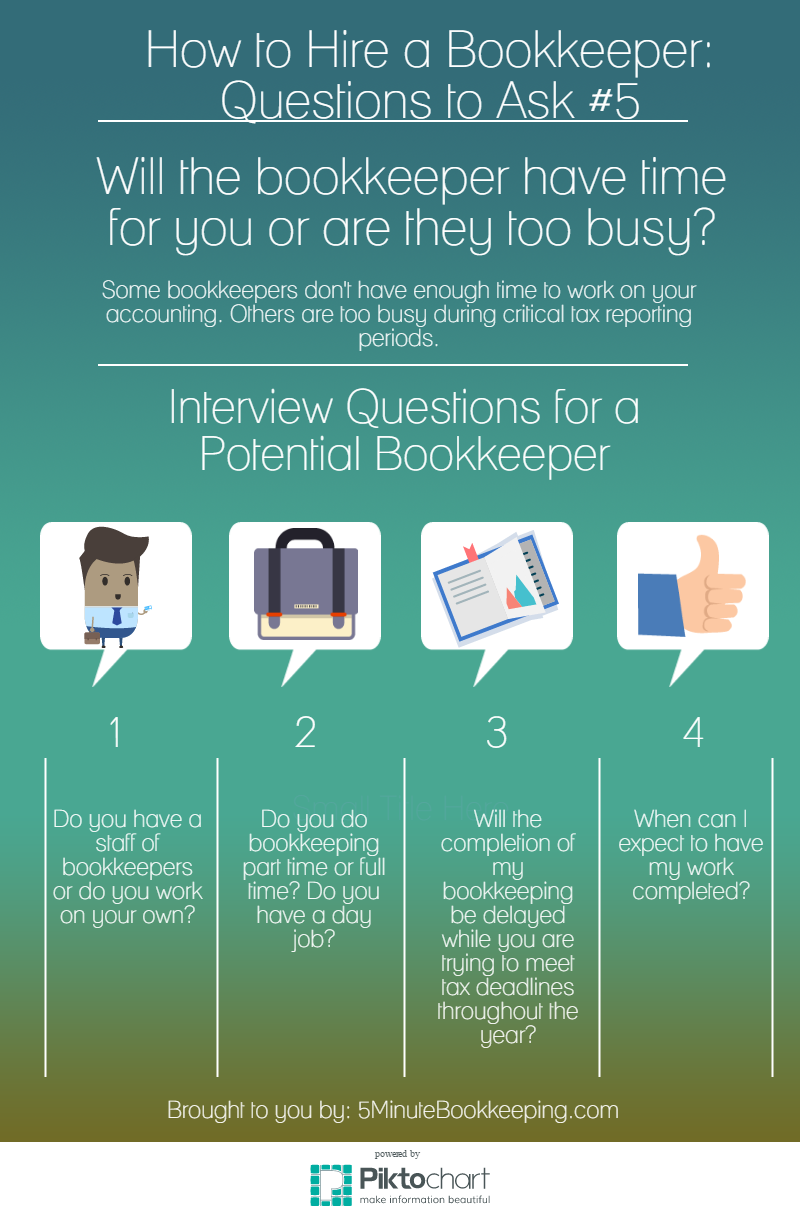 In my next post on How to hire a bookkeeper, I will cover the sixth question to ask when hiring a bookkeeper or accountant. What services will be provided?
(Visited 448 times, 1 visits today)