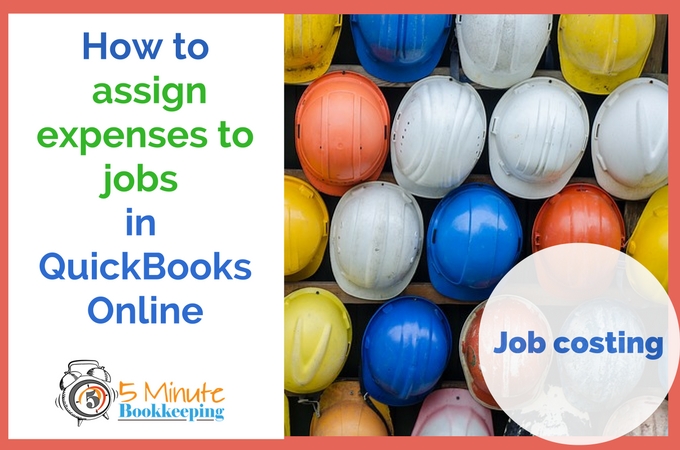 The story behind the story
I have trained hundreds of small business owners and their staff on QuickBooks Online and by far I have trained the most people on doing job costing in QuickBooks Online. Take Daniel, for example, he is the owner of a remodeling business and he needs to know the profitability of each remodeling job to make sure that he is staying profitable. Prior to using QBO, he was using Excel spreadsheets and spending lots of time on this. He resented the fact that his time was being wasted. Daniel soon learned that QuickBooks Online is a great tool for tracking job profitability but he wasn't sure how to set up job costing and how to work with it. After I trained with Daniel and his staff, he was able to know exactly how each job is doing and to have much more control over his business. Daniel was able to minimize lots of bookkeeping and spreadsheets and to maximize his profits by spending his time on managing his business. Don't you want to be like Daniel? If so, let's get to our topic – Job costing: How to assign expenses to jobs in QuickBooks Online.

What is job costing and why is it important?
Job costing is a method that many project-based companies used to track income and expenses for specific projects or jobs. For example, contractors and professional services companies use job costing extensively to monitor their job costs and to ensure that they are being profitable on a specific job.
Which version of QuickBooks Online should you use for job costing?
For full functionality, I recommend that you use QuickBooks Online Plus.
Set up QuickBooks Online to do job costing – Company settings
Start first by verifying your company settings to make sure that your QuickBooks is set up to track expenses by job.
Go to the Gear Icon > Account and Settings > Expenses.
Under Bills and Expenses – make sure that "Track expenses and items by customer" setting is turned on, as shown below.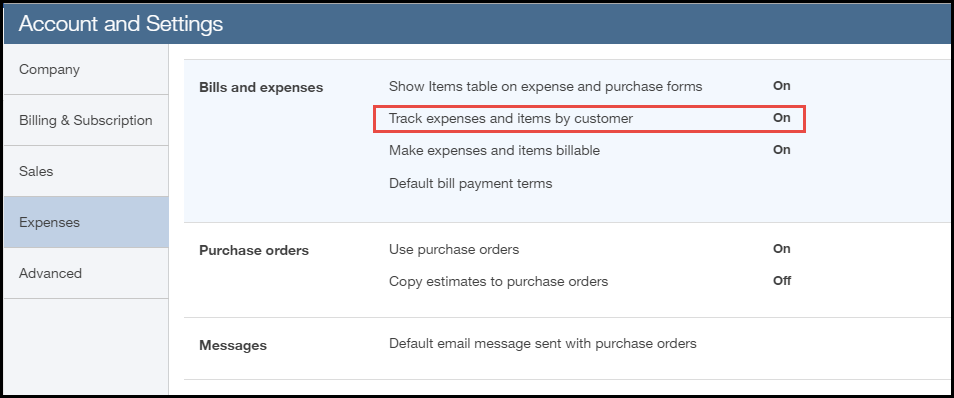 How to set up jobs in QuickBooks Online
In a prior blog post I showed you how to set up and add jobs in QuickBooks Online. Basically, you have to set up sub-customers in QuickBooks Online in order to track income and expenses by job. Check out the blog post to learn how to set up jobs as sub-customers.
What do jobs look like once they are set up in QBO?
When viewing a transaction, you will see the customer name followed by a colon ( : ) and the job name.
For example: Joe's landscaping contracting:1237 Happy Lane.
Here is an example:

In the customer:job list, you will see the jobs indented below the customer name. Here is an example:

How to assign expenses to jobs in QuickBooks Online
This is a relatively simple process once job costing is set up properly. You will enter the sub-customer (job) in the "Customer" field. Let me know you a few examples:
Here is a Purchase Order in which Items are being used: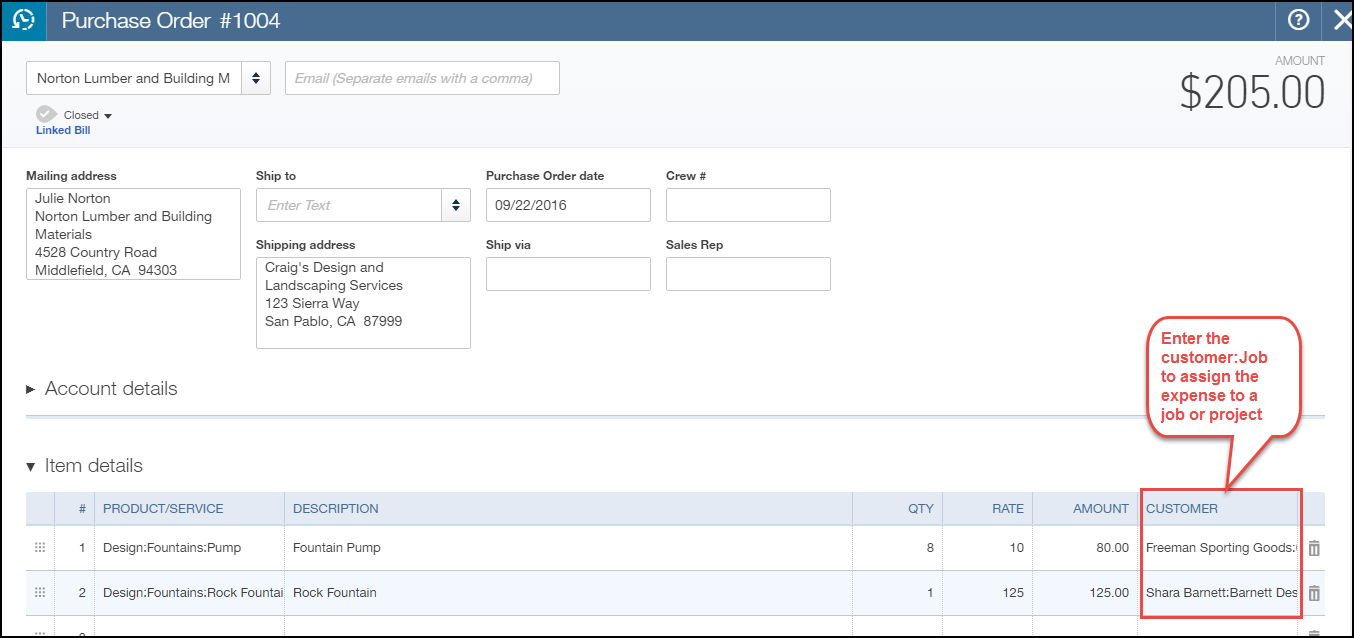 Here is a vendor bill: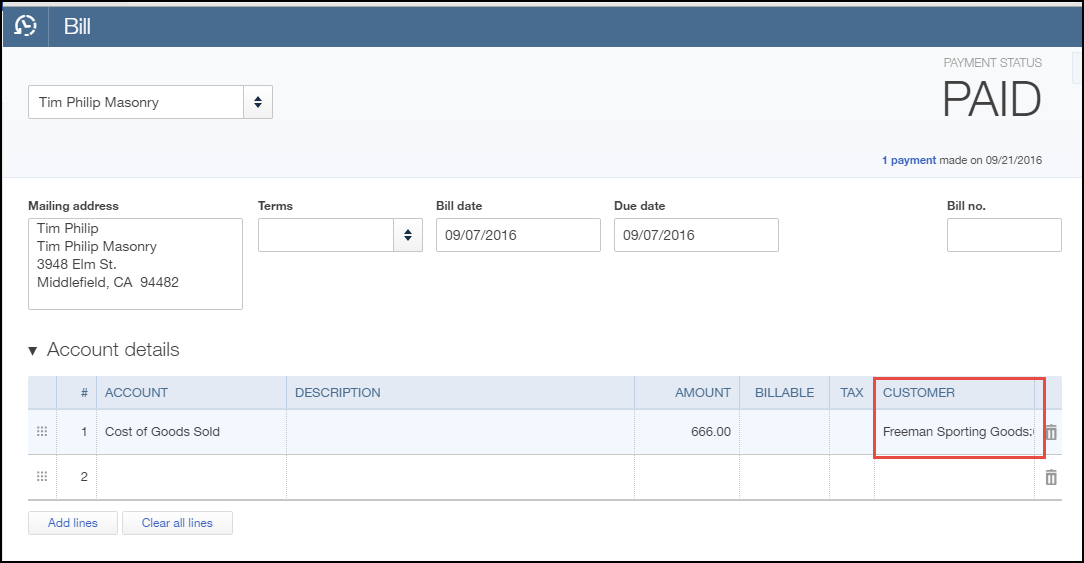 Here is another vendor bill. Notice that the item details contain 2 expenses and that each expense was assigned to a different customer job. You can do that too!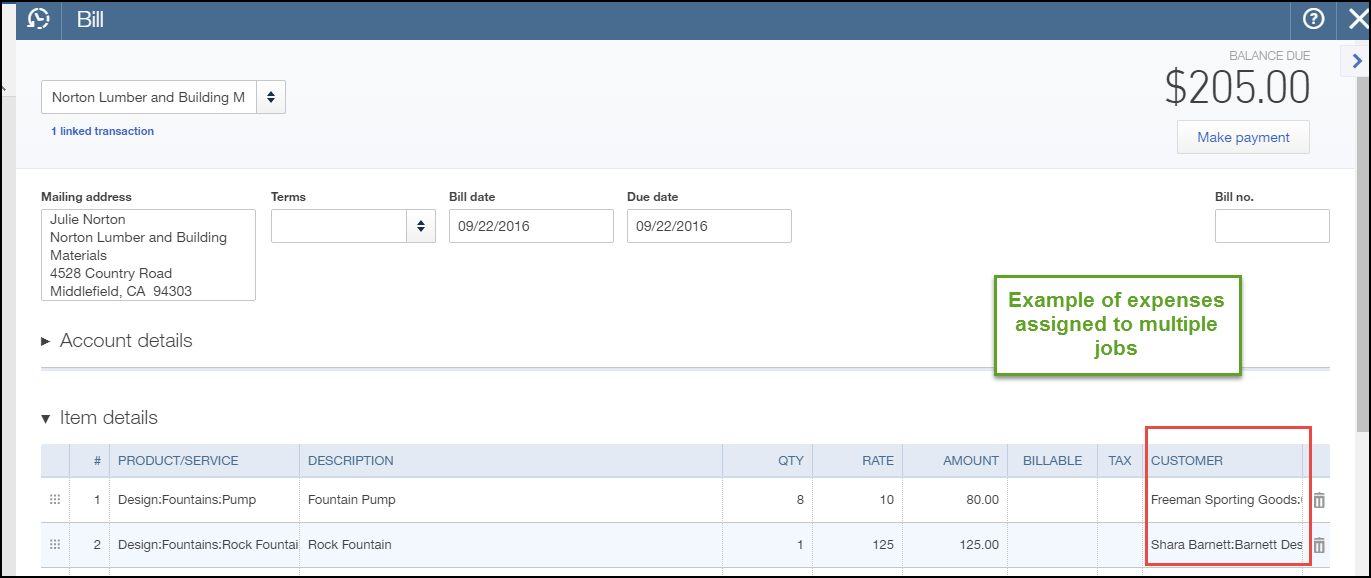 Here is an example of a check:

How to avoid the biggest mistakes
The biggest mistakes that untrained users make with job costing are:
They don't know how to set up jobs so they try to use Classes in QuickBooks. I don't recommend this method because that's not how QBO was intended to be used. If you connect QBO to an app, that app will expect you to be using sub-customers as jobs and not classes.
Forgetting to assign jobs to expenses. We're human and make mistakes – including assigning jobs to expenses. To prevent this from happening – assign jobs to all job-related costs. Then, you can easily run reports that show you unassigned job expenses.
Keeping track of job expenses as employees and contractors purchase job materials. Purchase Orders are great and they will help you track job costs, but, we all know that in reality your employees or contractors are making trips to the local home improvement store to purchase materials. Things can get out of control pretty fast! It's best for employees and contractors to write the job name on the receipt and to turn in receipts to "the office". Better yet, they can take pictures of receipts and use an app like ReceiptBank or Shoeboxed to track receipts electronically.
Upcoming content
Coming soon, I will go into more advanced topics about job costing in QuickBooks as well as running reports to track job profitability in QuickBooks. That concludes this week's blog on Job costing: How to assign expenses to jobs in QuickBooks Online. Have a great week and remember that just like Daniel, you too can minimize bookkeeping and maximize profits using QuickBooks Online.
(Visited 819 times, 2 visits today)