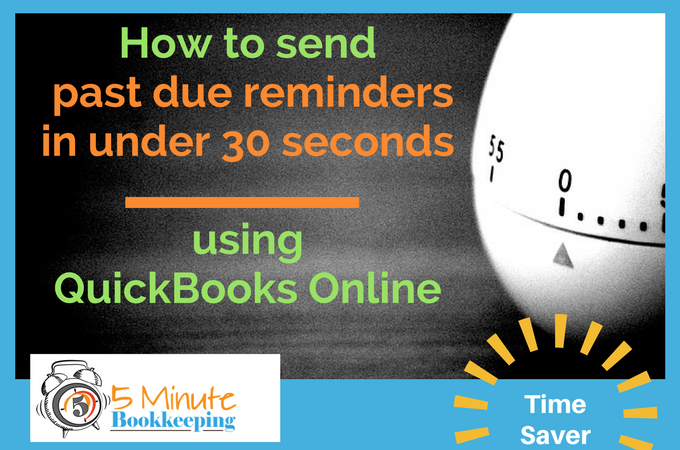 Do you hate sending past due reminders to clients? So do I. It's so awkward! I'm going to show you how you can send past due reminders in under 30 seconds using QuickBooks Online. I'm so glad that QuickBooks Online makes it simple to send collection reminders to customers. After all – none of us like to ask clients for money. It makes us really uncomfortable. The reality is, though, our businesses cannot survive without cash flow and we must do uncomfortable things sometimes to make our businesses successful.
I'm so glad that @QuickBooks Online makes it simple to send collection reminders to customers.
Click To Tweet
Learning from my mistakes
I'll share with you a mistake that I made early in my business. I had a client who was late paying me. I occasionally reminded the company's manager about the past due balance and he told me that they would pay. In the meantime, I continued to provide services to this client. Three months later, the balance they owed me was so big that I had no choice but to stop providing services. Unfortunately, at the same time, the manager quit and the company's owner said that they couldn't pay me because they didn't have the money. As it turns out – I wasn't paid for my services. I learned some valuable lessons from this situation. Lesson #1 – I should have reminded and called the manager and the owner on a consistent basis. Lesson #2 – I should have stopped providing services as soon as their balances became past due. Lesson #3 – I should have asked them to pay me in advance for my services.
Suffice it to say, I have not made this same mistake again.
Video tutorial
Here is the video tutorial for how to send past due reminders in 30 seconds using QuickBooks Online.

How to send past due reminders
In a previous blog post, I shared with you 4 Tricks for Tracking Past Due Customers and Increasing Cash Flow. Check out this post so you can learn how to track past due balances from customers.
Let's start from your overdue invoices page. Click Transactions from the Left Navigation Bar < Sales < click on the red "Overdue" box.
Highlight one invoice and click the drop down menu on the right side.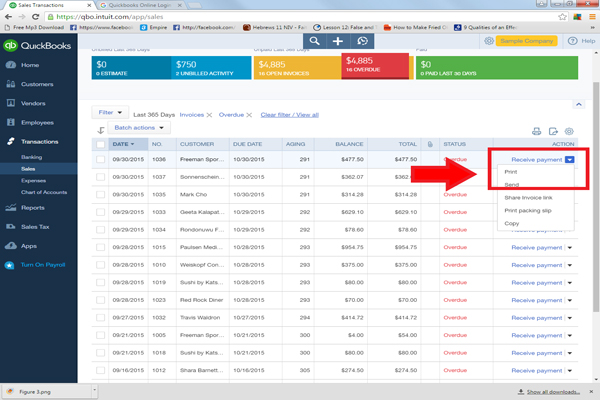 From the dropdown menu options, select "Send". This action will open a smaller window that will ask you to enter the email address of the recipient, the subject of your message and the actual message for your customer.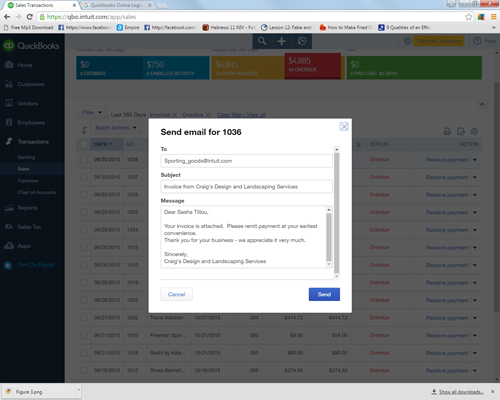 These fields are automatically filled out by the system. So you don't have to waste time looking for your customer's email address. However, you can always personalize your subject and the actual message you want to send to your customer as a reminder.
Here's an example of an email that is clear yet friendly:
Dear Customer,
I hope you are enjoying a productive week. I noticed that your invoice is overdue by 25 days and I wanted to reach out to make sure that you received our original invoice on 5/15.
I am concerned that you may not be aware that your invoice is 25 days overdue. I am reaching out immediately before a late fee of 5% is added to your outstanding balance.
I look forward to receiving your payment within a week,
I really appreciate your help! Thanks!
Donnie Cooper
ABC Corporation
Just a few tips:
When writing an invoice reminder, it is best to indicate when the invoice was sent. Also, note that last line in the paragraph: "I look forward to receiving your payment within a week." This is a classic "Call to Action." By doing this, you can make it clear that you are expecting the payment, and that you are expecting it within a certain time period.
Once you are done filling out the fields, you can now send the reminder to your customer by clicking the "Send" button.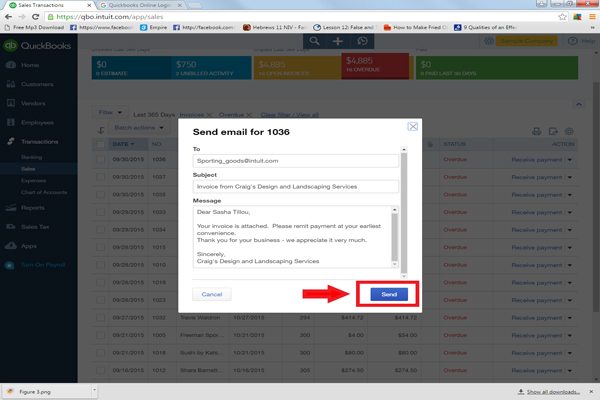 If the invoice continues to go unpaid, you should call the customer and a second reminder should be sent. The second email will increase the pressure but must remain professional – a tough balancing act.
When should you send past-due reminders to customers?
You should send a past-due reminder to your customer as soon as the invoice becomes past due. You should not wait until an invoice is 45 or 60 days past due. The likelihood of collecting old invoices decreases as times passes.
Once an invoice becomes past due, you should contact your customer on a weekly basis. Try to keep things friendly but firm so that they know you mean business. Consistency is the key when making collection calls.
Ready to take it to the next level?
If you've mastered this step – we have more content coming up! Including sending Statements from QBO as well as apps you can use to automate Accounts Receivables reminders and collections.
Closing
I just showed you how to send past due reminders in under 30 seconds using QuickBooks Online. Now you know that there is a fast and simple way of doing it and you'll know exactly what to do the next time a customer doesn't pay.
Thank you for reading this post. Let's keep minimizing bookkeeping and maximizing profits!
(Visited 1,079 times, 1 visits today)