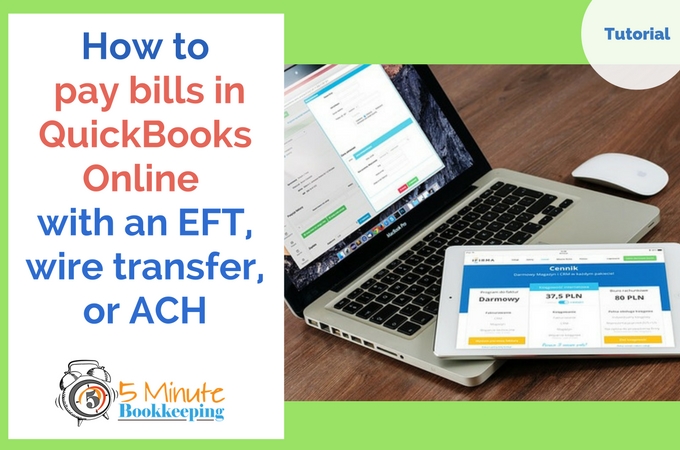 Hello again and thanks for keeping up with all of our QuickBooks Online tutorials – I appreciate your commitment. In the past couple of posts, I have shown you how to enter bills in QBO and how to enter bill payments by check and credit card. This time, I will show you how to pay bills in QuickBooks Online with an EFT, wire transfer or ACH – basically any form of electronic payment.
Does QBO actually pay the bills for you?
No, QBO's technology isn't quite there yet, but wouldn't that be great? In this tutorial, you will learn how to show that you have paid a vendor bill with an electronic payment such as an EFT (electronic funds transfer, a wire transfer, or ACH payment.
Pay Bills in QuickBooks Online
First, you need to enter bills in QBO .
Next, click on the Create (+) menu at the center top and select Pay Bills.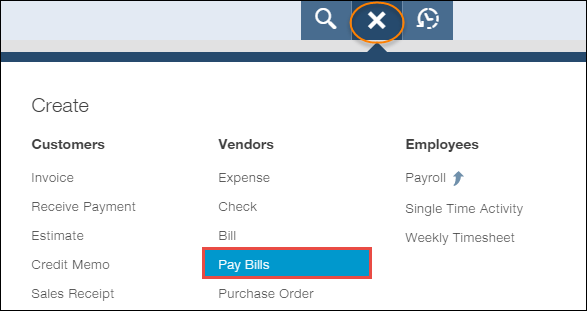 The Pay Bills window will open.


Select the bank account to post the payments to.
Enter the date of the payment.
Make sure to leave the "starting check number" blank.
Make sure that "Print later" box is unclicked.
Click on the bills that you want to show as paid.
The total payment amount is the total of all the bills that you paid via electronic payment.
Click Save.
Tips
Make sure that the total amount of the bills selected in QBO matches to the amount of the electronic funds transfer (wire transfer or ACH payment).
Click Save and avoid clicking "Save and Print" – there is nothing for you to print since you paid the vendor bills with an electronic payment.
How to enter a wire transfer number or reference number
Some people want to be able to enter a wire transfer number or other type of reference number. If you want to, you can go to the bank register and find the payment. From the Left Navigation Bar, select Transactions > Chart of Accounts. Find the bank account you paid the wire transfer from and click View register from the right side.

Find the wire transfer on the register and click on the transaction to edit it.
Enter the transaction reference number in the field indicated and click Save to exit. Say Yes to the next window asking you if you are sure you want to modify it.

Final words
Voila! You have learned how to pay bills in QuickBooks Online with an EFT, wire transfer or ACH. It's really easy and it doesn't take very long. Please share these posts if you find them useful. I'd love it if you would also subscribe to our blog if you haven't already done so. Have a super week!
(Visited 3,467 times, 2 visits today)