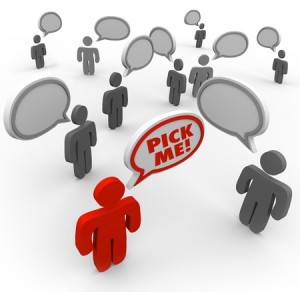 I often talk to small business owners who are not sure what to ask when they are looking to hire a bookkeeper. As a result, they feel very insecure since they are out of their comfort zone. Hiring a qualified bookkeeper or accountant can be scary and overwhelming. Many business owners base their decision solely on fees – and they end up selecting the lowest. In the world of accounting and bookkeeping – you get what you pay for. If you base your decision solely on fees, you will likely make the wrong decision.
How to hire a bookkeeper – 10 questions to ask when hiring a bookkeeper or accountant
You don't know what you don't know. When it comes to hiring a qualified bookkeeper you just don't know what questions to ask. You take it for granted that they must know something. After all they call themselves a bookkeeper, accountant, or CPA, right? They seem nice nice enough, right?
There are many types of bookkeepers and accountants with varying degrees of knowledge and experience. You need to know what to look for so that you can find yourself a hero and not a loser.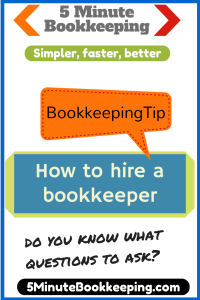 Here is a list of questions to ask a prospective bookkeeper or accountant to help you make an informed decision:
1.  Are they experienced and qualified?
2.  Are they trained and supervised by a CPA?
3.  Do they have experience working with your version of QuickBooks?
4.  Will they work on your QuickBooks file or do your bookkeeping in their own software?
5.  Will the bookkeeper have time for you?
6.  What services will be provided?
7.  When and how will services be provided?
8.  How will you be billed for their services?
9.  Will your financial data be secure and confidential?
10.  Will they make recommendations  to help you get the most out of QuickBooks?
Here is an additional tip when interviewing a prospective accountant or bookkeeper.  Ask specific and open ended questions.
What not to ask:
Are you organized?

Do you know QuickBooks?
They will always say yes!
Instead, ask these questions:
Can you give me an example of a situation with a client where you helped them to get their business records organized?

What kind of experience do you have with QuickBooks?
I'll cover these points in more detail in future blog posts and give you more specific questions to ask. Remember, choosing a bookkeeper solely based on their fees is a big mistake. Know what questions to ask when hiring a bookkeeper or accountant and you will be able to eliminate a lot of unqualified candidates.
(Visited 835 times, 1 visits today)