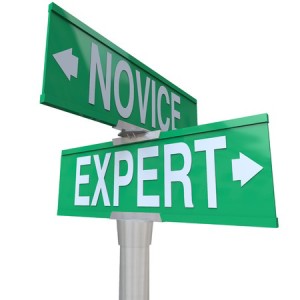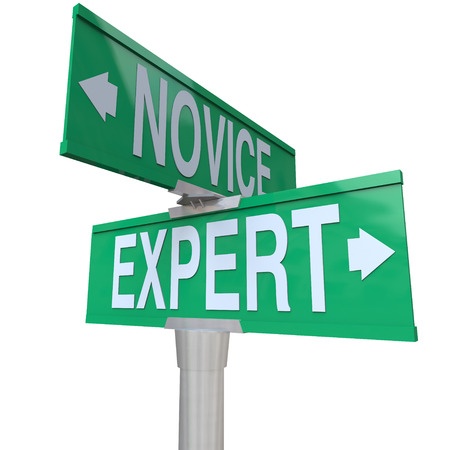 Are they experienced and qualified?
In a prior post, I listed the 10 questions you should ask when hiring a bookkeeper or accountant. In this post, I'll focus on the first question to ask –  are they experienced and qualified? There is great confusion as to what a bookkeeper does, compared to an accountant or a CPA (Certified Public Accountant).  I like to explain it this way – a bookkeeper is  like a nurse. A CPA is like a doctor. A nurse can do some things but they can't do what a doctor does. There are times when you need and want a doctor. Other times, a nurse will do just fine.
A trained bookkeeper is capable of  bookkeeping functions like recording transactions and reconciling accounts. A CPA has much more training and looks at your accounting and bookkeeping from a much broader perspective. A CPA must consider accounting issues, operational issues, financial reporting issues, and tax issues.
Here are some quick facts about bookkeepers and CPAs:
There is no criteria for someone using the designation of "bookkeeper". There is not one standardized accreditation or certification for bookkeepers. Anyone can call themselves a "bookkeeper".

Certified Public accountants have an accounting degree, have passed the Certified Public Accounting test in their state, and are required to take continuing education classes to maintain their license. Only Certified Public Accountants can use the designation of "CPA" or "accountant" in their state. Beware of individuals calling themselves "accountants".  They may not be CPA's.
A person can call themselves a bookkeeper and have absolutely no training or experience. They don't have to get a certification of any kind. There are many "bookkeepers" out there who are not qualified.
There are some people who call themselves a CPA or accountant and have never been certified as a CPA by their state. You can look up a CPA in the state where they are licensed and find out if their license is up to date.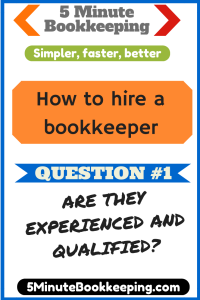 There are many qualified and experienced bookkeepers, accountants, and CPA's. But how do you know? Here is a list of questions to help you determine whether a bookkeeper, accountant, or CPA is experienced and qualified:
Are you a CPA or bookkeeper?
Is your CPA License valid?
If QuickBooks Certified – "Are You certified by Intuit?"
Which QuickBooks versions and years are you certified in?
What kind of bookkeeping training do you have?
How many years of experience do you have?
What kind of experience do you have working with my type of business?
How have you helped other clients like me?
Do you have experience cleaning up messy accounting books? Tell me about one of those experiences?
How will your services help me free up time, increase my profits, and help me save money on my taxes? 
How to verify your bookkeeper's or accountant's qualifications
It's relatively easy to check out your bookkeeper's certifications – you can verify most of it online. If they are QuickBooks certified – ask for the link to their QuickBooks ProAdvisor listing. If they are a CPA – look them up in their state's board of public accountancy. If they have a bookkeeping certification – ask to see a copy of their certificate and check out the school they attended. If they claim to have a college degree or associate's degree – contact their school and verify that they graduated from that school.
The bookkeeping hiring test
You may consider giving your prospective candidate a bookkeeping test. Check out this free bookkeepers hiring test from the American Institute of Professional Bookkeepers.
Ask for references and look up testimonials
Ask the bookkeeper for references and testimonials. Call the references and learn more about the bookkeeper. What specifically did they do for that client? Was the work performed timely and accurately? Were they happy with the service provided? What is the bookkeeper's personality like? Would they recommend the bookkeeper?
What additional questions would you ask to learn more about a bookkeeper's training and qualifications?
In my next post on How to hire a bookkeeper, I will cover the second question to ask when hiring a bookkeeper or accountant. Are they trained and supervised by a CPA?
Here's an infographic for you to save and download: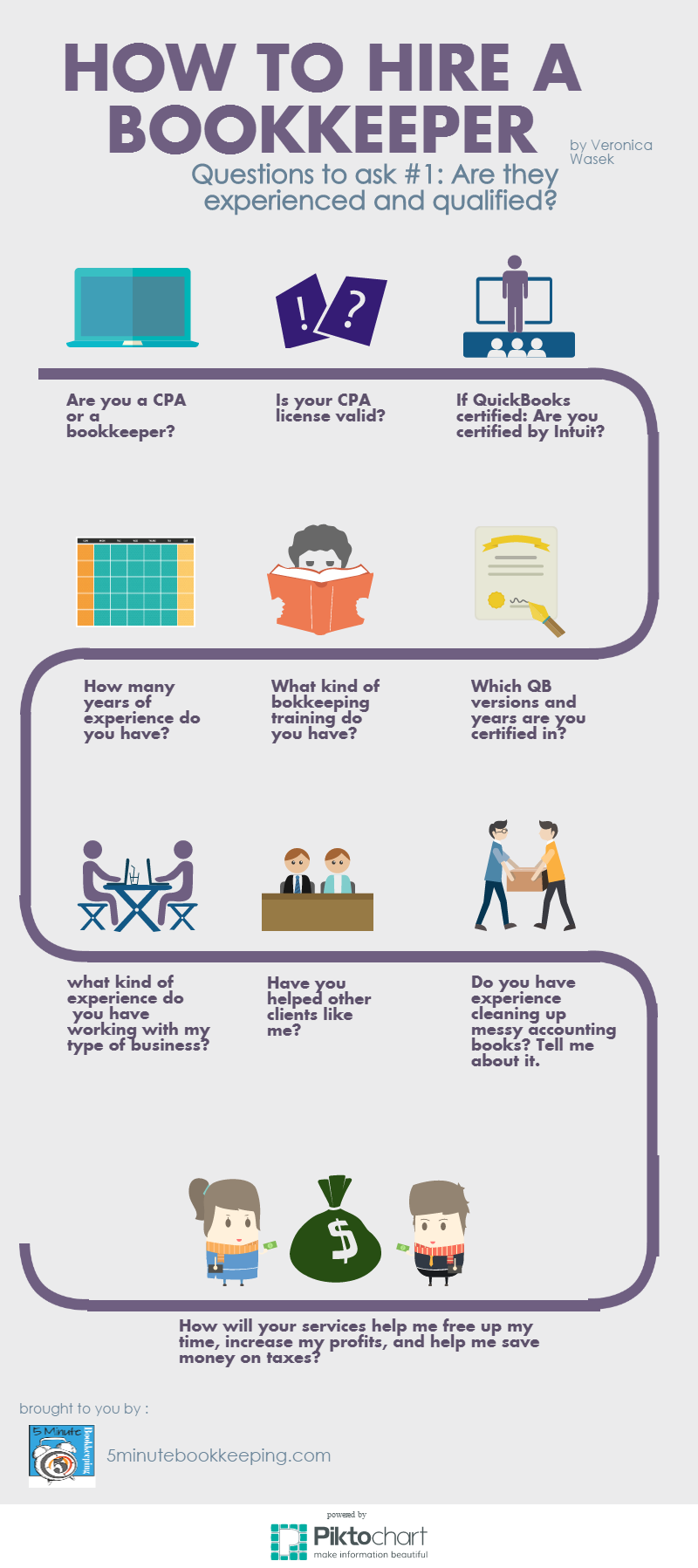 (Visited 808 times, 1 visits today)