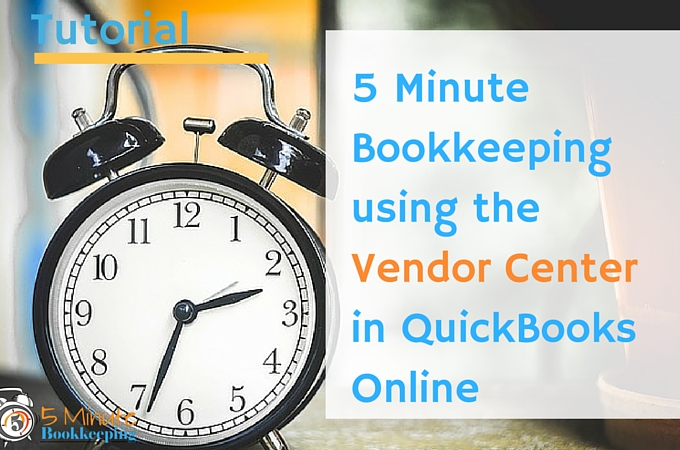 As I shared in a previous post, in addition to our step-by-step QuickBooks Online tutorials I will now start sharing with you 5 Minute Bookkeeping™ tips and tricks. In this blog post, I'm going to show you how to do 5 Minute Bookkeeping™ using the Vendor Center in QuickBooks Online.
5 Minute Bookkeeping™ is all about saving time and doing things right the first time so that you don't have to go back and fix it. From the Vendor Center in QuickBooks Online, you can gets lots of things done in no time. I'll take you through a tour of the Vendor Center and share my time-saving tricks with you.
How to access the Vendor Center in QuickBooks Online
To access the Vendor Center, click on Vendors from the Left Navigation bar.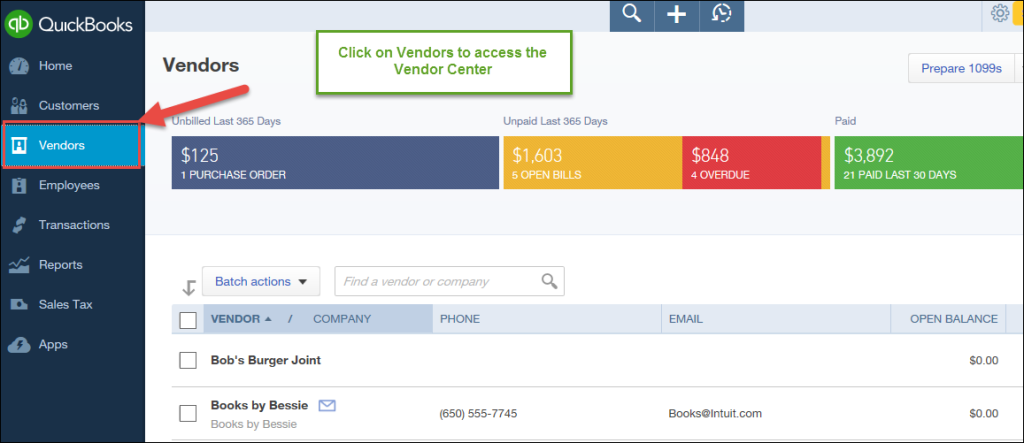 Tour of the Vendor Center in QuickBooks Online
First, let's go over the vendor money bar.

The vendor money bar is a quick way to filter specific types of vendor transactions. For example, click on the yellow Open Bills button to view all unpaid vendor bills.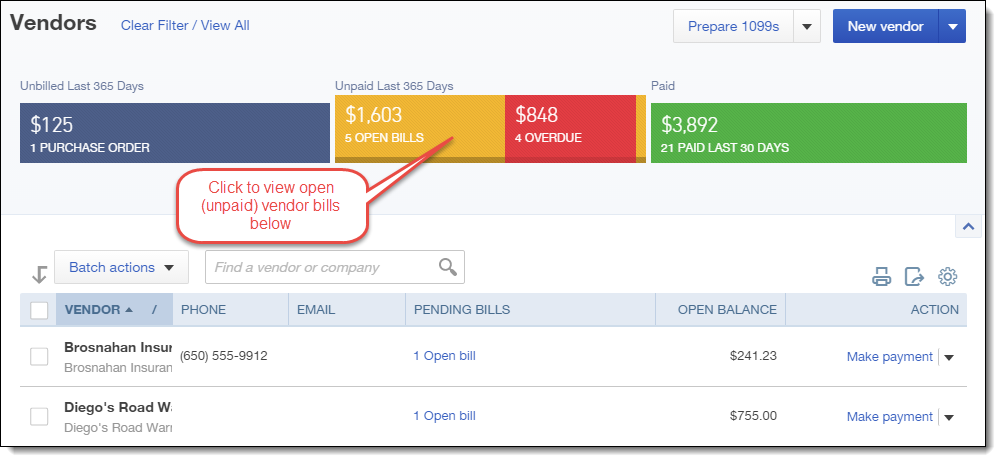 To clear the filter, simply click Clear Filter / View All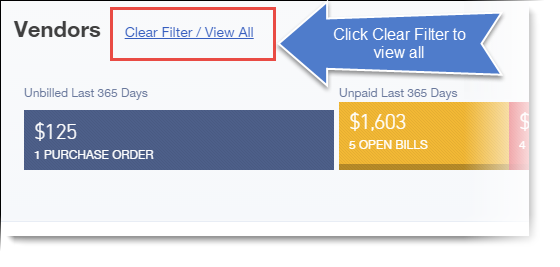 View the vendor list in QuickBooks Online
Directly below the vendor money bar is the vendor list in QBO. Vendors are sorted alphabetically by default.

You can quickly find a specific vendor by entering the vendor name into the search field.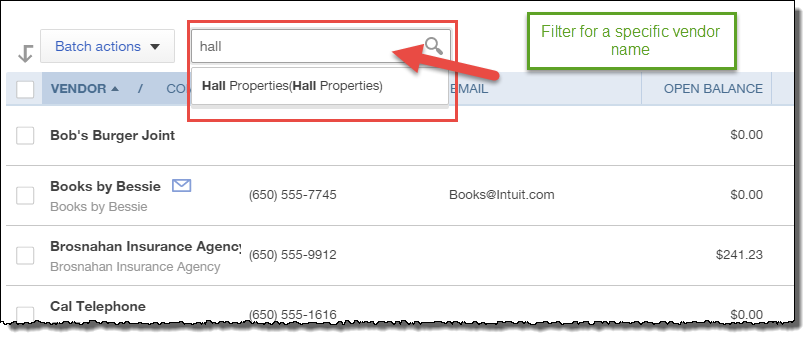 Create transactions directly from the Vendor Center in QBO
Save time by creating transactions directly from the vendor center. Next to the vendor name in the Action column, you will see a blue down-arrow. Click the down-arrow and select one of the choices to create a transaction such an expense, a bill, a check, or a purchase order. As an added bonus, the vendor's name will already be added to the transaction – saving you data entry time. This way, you don't have to enter a transaction from the Quick Create (+) menu.

View a vendor file in QBO
From the Vendor Center, click on the vendor's name to open the vendor file in QBO. You can view vendor details, vendor notes, and transactions with that vendor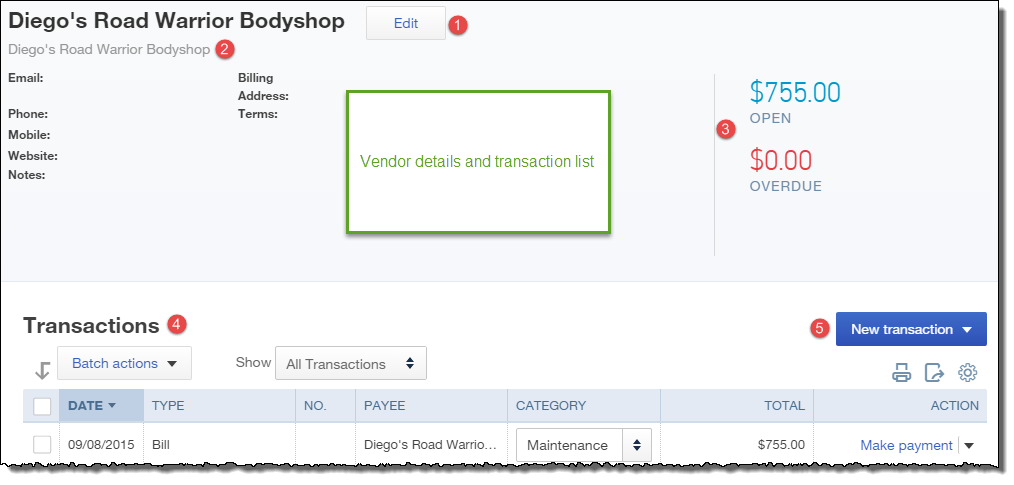 Click Edit to edit vendor details.
View the vendor's contact information and notes.
You can see the vendor's open (unpaid balance) and overdue balance.
You can view the list of transactions you have with that vendor, including bills, bill payments, checks, and purchase orders.
Click on the blue "New transaction" box to add a new transaction, such as:

Bill
Expense
Check
Purchase Order
Vendor Credit
Vendor file tips and tricks
From the vendor file, you can take quick action on transactions with a simple click. From the action column click on make payment or click on the down arrow to enter a bill payment or copy a vendor bill.

Click on the gear icon to the right to see more columns. I like to click on the "Status" box to see whether the bill is paid or unpaid.
You can quickly correct the account category used. Just click on the black arrows to change the category. This way, you can make a quick correction if you picked the wrong account.

Click on Show to view only specific transactions. For example, you can show only open bills or overdue bills.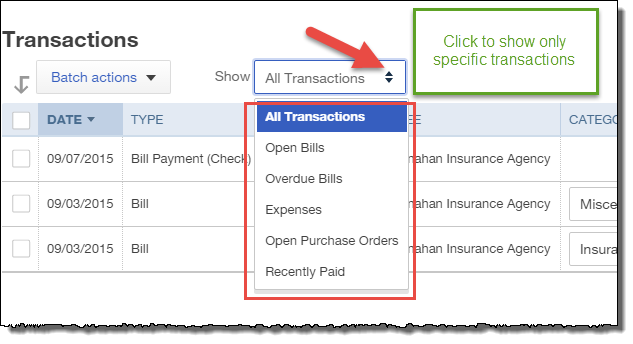 How to change categories on multiple vendor bills
Have you ever had a problem with transactions showing up in uncategorized expense? Here's a quick way to fix it using batch actions.
Click on the transactions you want to change. Click batch actions and select categorize selected.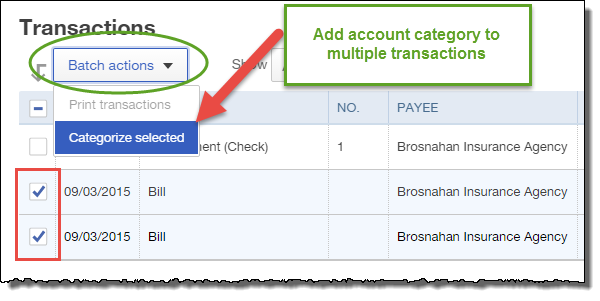 A new window will open. Enter the account category or select from the list. Click Apply when done.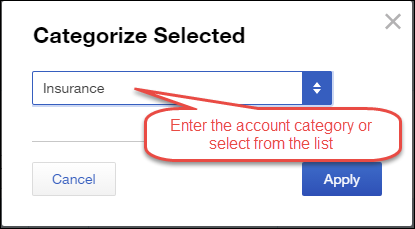 Final thoughts
Did you notice that the Vendor center in QBO looks a lot like the Customer center into QBO? If you did, kudos to you! That's the beauty of QBO – you can learn it quickly!
That's it for our 5 Minute Bookkeeping using the vendor center in QuickBooks Online. Do you want to get more 5 Minute Bookkeeping tips and QBO tutorials? Be sure to subscribe to our content.
(Visited 544 times, 1 visits today)