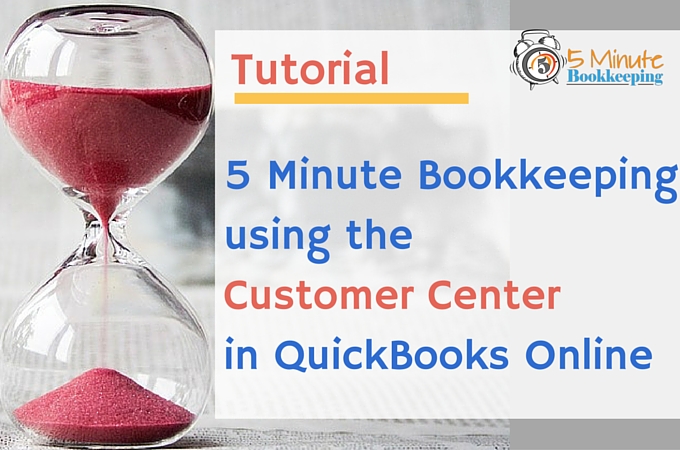 By now, I hope you are taking advantage of all of our step-by-step QuickBooks Online tutorials . It's time for to take your knowledge to the next level and to start doing some 5 Minute Bookkeeping™. In this blog post, I'm going to show you how to do 5 Minute Bookkeeping™ using the Customer Center in QuickBooks Online.
5 Minute Bookkeeping™ is all about saving time and doing things right the first time so that you don't have to go back and fix it. The Customer Center in QuickBooks Online is full of time-saving shortcuts. I'll take you through a tour of the Customer Center and share my tips and tricks with you.
How to access the Customer Center in QuickBooks Online
To access the Customer Center, click on Customers from the Left Navigation bar.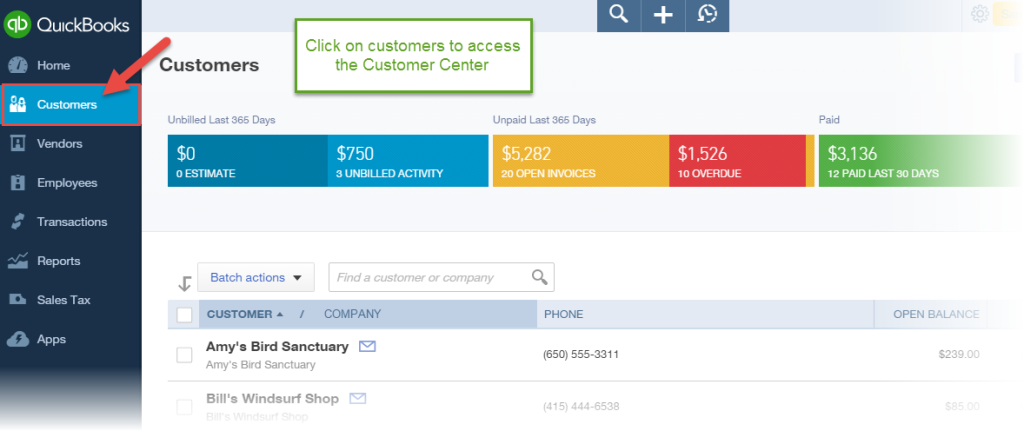 Tour of the Customer Center in QuickBooks Online
The customer center is full of cool features. First, the money bar.

You might be distracted by the colorful money bar to notice that it's a very useful tool. The money bar is a quick way to filter specific types of customer transactions. For example, click on the red Overdue button to view all past due invoices.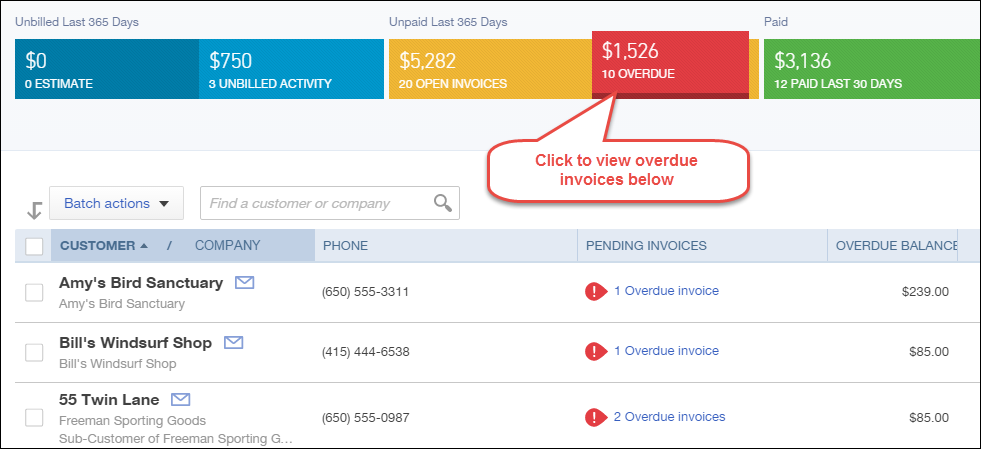 To clear the filter, simply click Clear Filter / View All

View the customer list in QuickBooks Online
Directly below the money bar is the customer list in QBO. Customers are sorted alphabetically by default.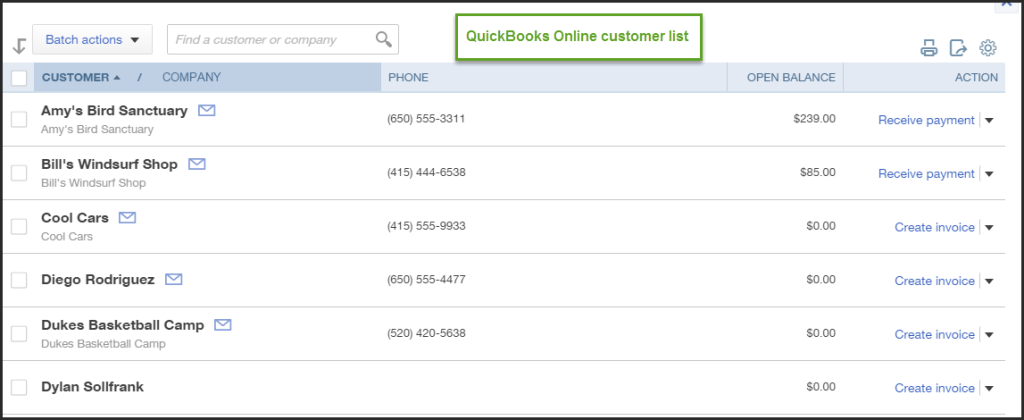 You can quickly find a specific customer or company name by entering the customer name into the search field.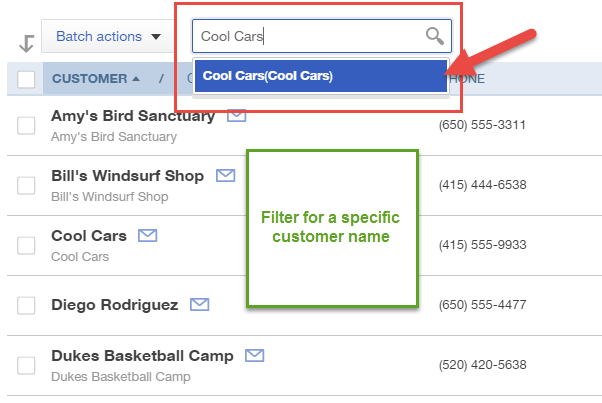 Create transactions directly from the Customer Center in QBO
Save time by creating transactions directly from the customer center. Next to the customer name in the Action column, you will see a blue down arrow. Click the down arrow and select one of the choices to create a transaction such a statement, invoice, sales receipt, or estimate. You can even send past due reminders. This way, you don't have to enter a transaction from the Quick Create (+) menu and the customer's name will already be added to the transaction – saving you data entry time.

View a customer file in QBO
From the Customer Center, click on the customer's name to open the customer file in QBO. You can view customer details, customer notes, and transactions with that customer.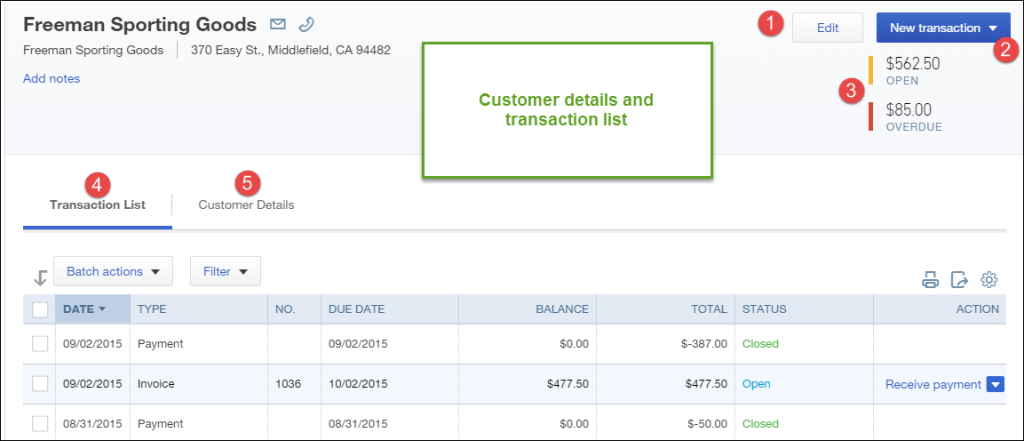 Click Edit to edit customer details.
Click on the blue "New transaction" box to add a new transaction, such as:

Invoice
Payment
Estimate
Sales Receipt
Credit memo
Delayed charge
Time activity
Statement

You can see the customer's open (uncollected balance) and overdue balance
You can view the list of transactions you have with that customer, including invoices and customer payments
You can view details of the customer information – such as contact information, etc.
Customer file tips and tricks
From the customer file, you can take quick action on transactions. From the action column, click on the down arrow to print an invoice, send (email) an invoice, print a packing slip, or copy an invoice.

Click on the gear icon to the right to see more columns. I find it really useful to click "last delivered". This way I know when I emailed the customer their invoice.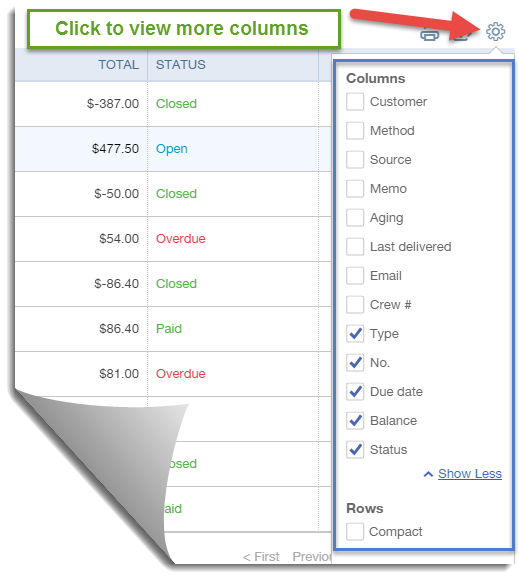 Click on Filter to view only specific transactions. For example, I like to filter transactions by invoice so that I can see only the invoices I have sent customers. You can also filter transactions by date. Click Apply to apply the filter.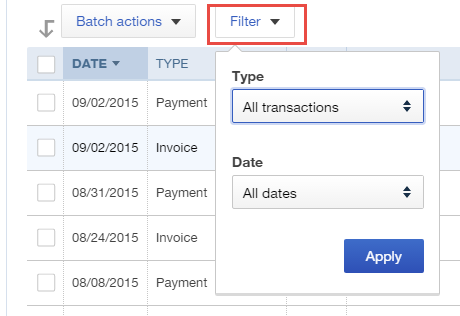 Do you want to send packing slips, print multiple customer transactions, or email customer invoices in a batch? Use the Batch actions feature. Click on the transactions (like invoices) and click Batch actions. Make the appropriate choice.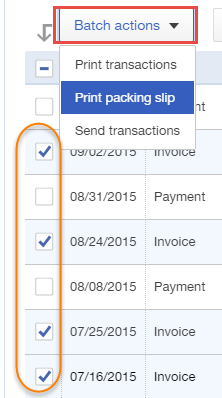 Final thoughts
I've shared with you lots of different ways in which you can save time and keystrokes from the Customer Center in QBO. Be sure to try these out and share your mad skills with others. I encourage you to share this post and tell others about 5 Minute Bookkeeping using the customer center in QuickBooks Online. Subscribe to our blog so you can get more step-by-step QBO tutorials and 5 Minute Bookkeeping tips.
(Visited 548 times, 1 visits today)